We, at Orthopedic + Fracture Specialists are excited to participate in one of the largest evidence-gathering clinical studies in orthopedic history along with 17 other participants, 10 of which are group practices. This study initiated by Zimmer Biomet will affect the individuals undergoing two of the most common surgeries Americans undergo each year – knee and hip replacement. Zimmer Biomet, along with Apple has developed the mymobility™ app that utilizes Apple Watch technology to connect patients and their surgical teams to deliver continuous data to optimize patient care and outcomes. Three of our joint replacement surgeons, Dr. Paul J. Duwelius, Dr. Alex M. DeHaan, and Dr. Brett M. Andres will be heading up this study at Orthopedic + Fracture Specialists with some of their patients undergoing knee and hip replacement surgery.
Zimmer Biomet, a global leader in musculoskeletal healthcare, is collaborating with Apple to help set a new standard in digital healthcare. mymobility™ is an app that uses Apple Watch® to facilitate a new, first-of-its kind level of connection between patients and their surgeons to impact the pre and post-operative patient journey, while also delivering continuous data to surgeons so they can optimize care and outcomes. In tandem, Zimmer Biomet is also launching the Zimmer Biomet mymobility™ Clinical Outcomes Study, a nation-wide research that is one of the largest evidence-gathering clinical studies in orthopedic history.
Zimmer Biomet collaborates with healthcare professionals around the globe to advance the pace of innovation. Both Zimmer Biomet and Apple aim to help healthcare professionals work more effectively with healthcare facilities, connect remotely with patients, and conduct research intended to study efficiency and a personalized standard of care.
According to Zimmer Biomet, over one million knee and hip replacements occur annually in the U.S., and this number is expected to grow to 3.5 million by 2035. Hip or knee replacement surgeries tend to create fear and anxiety for patients because there is often limited support or guidance before and after surgery. mymobility™ aims to transform and optimize the patient and doctor experience by providing an opportunity for two-way dialogue. With it's simple and intuitive interface, the mymobility™ patient experience was developed to keep patients informed and educated on next-steps through notifications, video tutorials, to-dos and reminders throughout their journey. The data gathered will provide surgeons with new information across the surgical experience, including pre-surgery evaluation from data on heart rate and activity levels along with continuous data post-surgery to monitor recovery progress.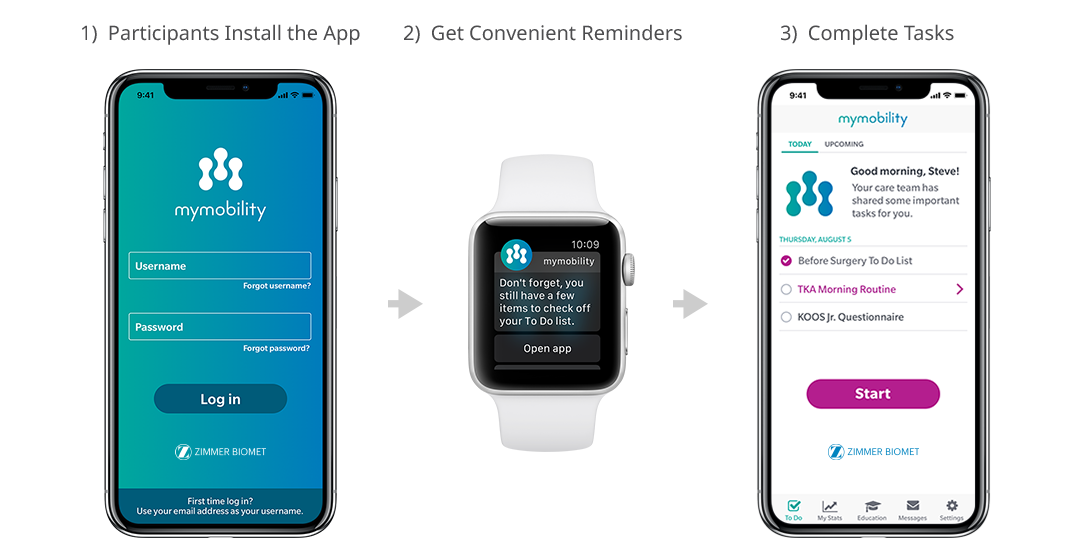 The Zimmer Biomet mymobility™ Clinical Outcomes Study will generate a complete data set on preparation for and recovery from joint replacements, in order to measure impact on streamlining outcomes, patient selection, and ultimately enhancement to the pathways of care. This study will combine patient reported feedback with continuous biometric and behavioral data from the mymobility™ with Apple Watch solution and provide new information about the patient journey. The study, currently employing 17 sites including academic centers, hospitals, ambulatory surgery centers and group practice offices, is designed to determine impact on the standard of care for knee and hip replacements and will generate both clinical and economic evidence for mymobility™.
Adult patients who own an iPhone 6 or later may be considered for enrollment in the mymobility™ Clinical Study if they are scheduled to have a total or partial knee replacement or total hip replacement at one of the selected clinical study sites where they will be receiving a Zimmer Biomet joint replacement device as part of their clinical care. Other inclusion criteria include a diagnosis of osteoarthritis.
Not all patients are candidates for this product and/or procedure. Only a medical professional can determine the treatment appropriate for your specific condition. Joint replacement results and post-operative activities and restrictions will differ from patient to patient. Talk to your surgeon about whether joint replacement is right for you and the risks of the procedure including implant wear, infection, loosening, breakage or failure, any of which could require additional surgery.
Apple, Apple Watch and iPhone are registered trademarks of Apple, Inc. mymobility™ is a trademark of Zimmer Biomet or its affiliates.
Click here to learn more about mymobility.