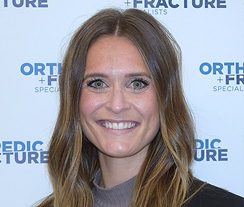 Catherine Lenhardt, M.A., ATC
Catherine Lenhardt started her career working in collegiate athletics. While in graduate school at UNC Chapel Hill she worked with men's basketball and men's + women's swimming and diving. While there she completed her master's thesis, The Effect of Football Shoulder Pad Removal Technique and Equipment Removal Training on Cervical Spine Motion, Time to Task Completion, and Perceived Task Difficulty, which was published by the journal of Athletic Training & Sports Health Care in 2015.
Profile
Specialties
Education
Profile
Following her time in Chapel Hill, she went on to work with UNC Wilmington men's soccer and men's tennis. In 2016, along with her team responsibilities, she initiated a year-long collaboration with the local emergency medical services. Her efforts were geared towards merging protocols, overcoming various obstacles, and ultimately improving the transition of care for a patient from athletic trainer to EMS during life-threatening emergencies. She loves finding ways of making systems work better, especially when it has the ability to improve patient experience or outcomes.
Catherine is very excited to make the transition from the field to the clinic, and Orthopedic + Fracture Specialists is just the place to do that. She has enjoyed how patient-centered the care is and she is really grateful to work alongside an incredible team of health care providers who are just as excited to see people return to health and happiness as she is.
Specialties
Education
Undergraduate Education
Oregon State University, Corvallis, OR
-B.S. in Athletic Training
Graduate School
University of North Carolina, Chapel Hill, NC
-M.A. in Athletic Training
Continuing Education
-Graston® Technique Certified
-NATA Convention attendant 2015, 2017