Play. Fit. Fun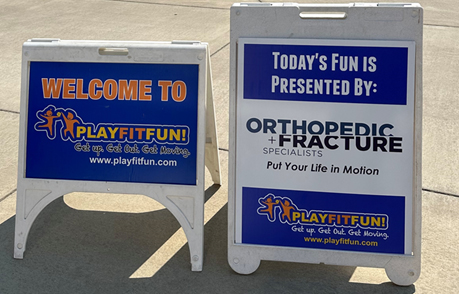 At Orthopedic and Fracture Specialists we are committed to helping our community live a life in motion. That is why we have been a proud sponsor of Play. Fit. Fun. for the past eight years.
Play. Fit. Fun. is a kids' action organization focused on getting kids moving in their bodies. It is all about physical movement, play, and building healthy life habits! They host various activities through their before and after school programs, camps, high school, and corporate team building events.
Schools invite Play. Fit. Fun. to visit during the school day and work with their students. Every class is unique in size from small to large groups and has different focuses on physical movement or teambuilding, but it is always centered around "fun".
PFF also donates team-building events to local high school classes, clubs, and athletic teams. They donate approximately 50 of these events per school year.
O+FS enjoys supporting the next generation in bonding and working on important skills such as teamwork, communication, problem solving, collaboration and much more.
To learn more about PFF click here. https://playfitfun.com