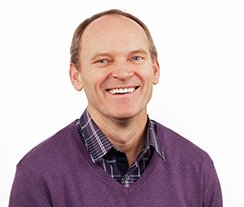 Rolf C. Sohlberg, M.D.
RETIRED!
We thank Dr. Rolf Sohlberg for 27 years of excellence in his practice of orthopedic surgery!
He has officially retired as of June 30, 2021.
Profile
Specialties
Education
Appointment
Achievements + Endeavors
Profile
Patients can expect initial consultations with Dr. Rolf Sohlberg to range beyond whatever might ail them. It's all part of the treatment and eventual solution.
"I'm not going to be staring at a clipboard or an iPad while I'm talking to them," he says. "It's important to spend the time to get to know each patient on a personal level. Then you can figure out what's best for them."
Board-certified in both hand surgery and orthopedic surgery, Dr. Sohlberg has an expertise in wrist and hand fractures and arthritis reconstruction. In an age where the overwhelming majority of patients are computer users, proper treatment of the hands is more relevant than ever.
"I think with experience comes a better feel for the right treatment," he says. "Not every patient needs surgery, not everyone wants an injection. There's no way to learn that in medical school. You just have to get that from experience, knowing what works and what doesn't work in certain situations."
Dr. Sohlberg comes from a long line of doctors dating back generations to the family's roots in Sweden. He went to medical school at the University of Washington and did his internship and residency in University of Illinois in Chicago. A self-described avid runner, cyclist and swimmer, he is married and has three daughters.
Education
Board Certification
American Board of Orthopaedic Surgery Certification of Added Qualification
-Hand Surgery
Undergraduate Education
Stanford University, Stanford, CA,
-B.A. Human Biology
Medical School
University of Washington, School of Medicine, Seattle, WA
Internship
University of Illinois-Chicago and Affiliated Hospitals, Chicago, IL
Residency
University of Illinois-Chicago and Affiliated Hospitals Chicago, IL
Fellowships
USC – Kaiser Permanente, Los Angeles CA
Hand and Microsurgery Fellowship
Honors & Awards
Coming Soon
Ratings + Reviews